HISTORY
Youth for Understanding humbly started in the United States in 1951 in an effort to heal the wounds of World War II.
John Eberly, an American minister, understood that the hardships prevalent in post-war Germany were having devastating effects on the country's youth, placing them in a cycle of bitterness, hopelessness, and despair. He proposed to local church leaders that they create a youth exchange program to bring German students to the United States to live with a family and attend high school for a year. His vision and hope was that the exchange experience would motivate the students to return to Germany and rebuild their country as a democracy, according to what they observed while living in the United States.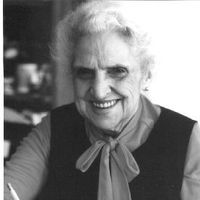 The leadership of this vision was handed off to, and brought to life by, Dr. Rachel Andresen who founded YFU and served as its longtime Executive Director. In 1948, prior to YFU's conception, Dr. Andresen was in attendance when the city lights of Amsterdam were turned on for the first time after the war. That moment of sudden illumination of the entire city was so impressive she vowed to do everything she could with her life "so that the lights would never go out again." She saw Youth for Understanding as an opportunity to not only ensure the lights would remain, but also as a way for it to spread across the globe. Her hard work and commitment were recognized in 1964 when Youth for Understanding gained the status as a non-profit educational organization and then again in 1973 when she became a Nobel Peace Prize nominee for her commitment to international youth exchange.

The initial exchanges established the family living experience and opened the doors for YFU expansion to other parts of the world. In the mid-fifties, the program grew to include Scandinavia, and later expanded to western and central Europe. YFU bridged the Pacific in 1958 when students first came from Japan. The Pacific program now offers a variety of countries such as the Philippines, China, and Australia. Youth for Understanding was introduced to Latin America in 1958, beginning with Mexico, and South American countries followed behind a year later. A few decades passed before any more relationships were established. In 1989, however, Eastern Europe joined the program, followed by Africa in 1994 when South Africa joined YFU.
Today, YFU's relationships include over 55 countries who have served over 260,000 exchange students. As we continue to develop and reach more countries, students, and families, we hold steadfast to Dr. Rachel Andresen's vow to never let the lights go out again.